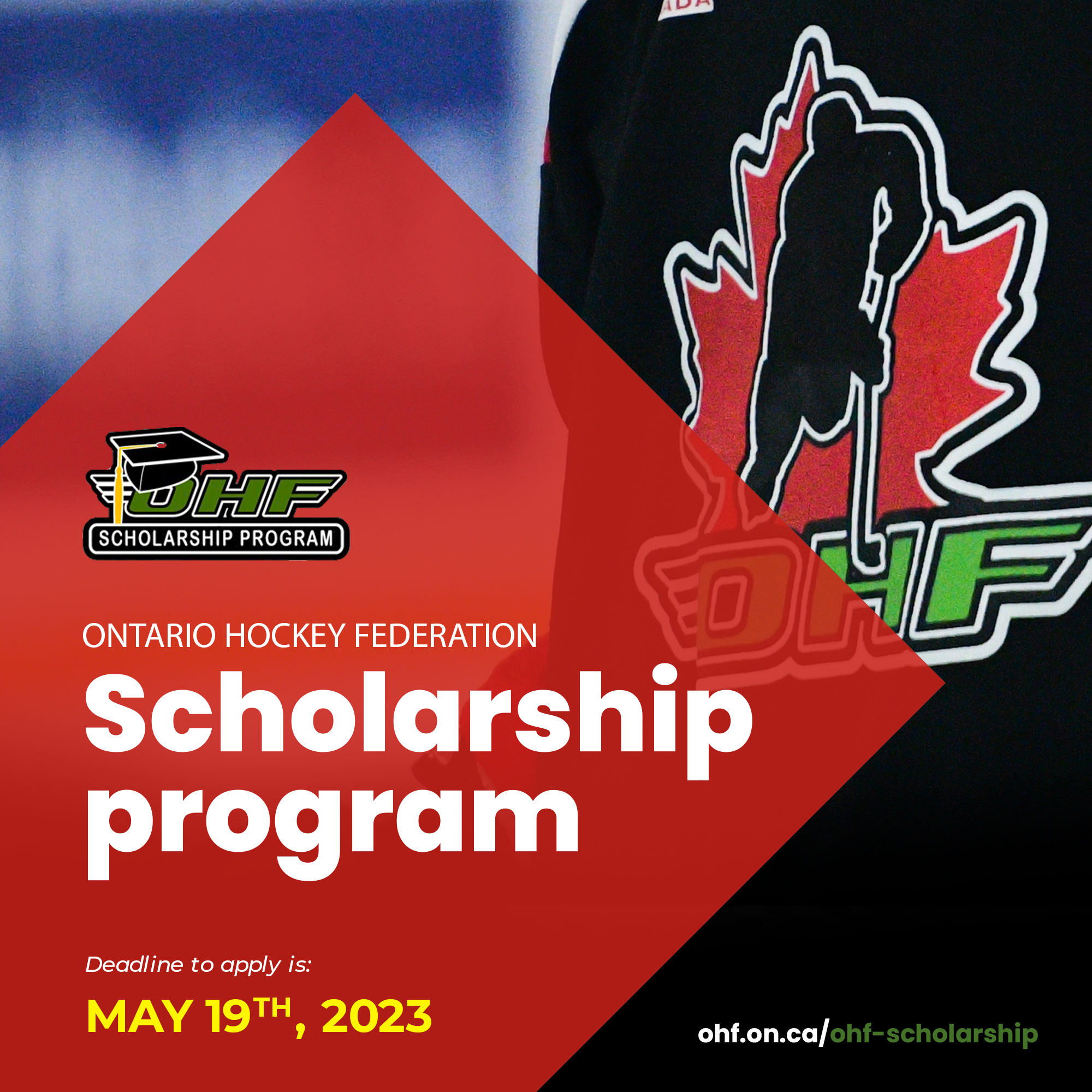 OHF Scholarship Program
Date: Mar, 09, 2023 12:30 PM EDT
The Ontario Hockey Federation (OHF) is excited to announce the opening of the application period for the OHF Scholarship Program. Applications will be accepted until May 19th, 2023.
The Scholarship Program was introduced in 1997 to recognize and reward dedication in education and hockey. The program provides financial assistance to registered OHF participants to offset the cost of post-secondary education. Since its inception, the OHF has distributed more than $450,000 to over 400 post-secondary students.
Each year, the program rewards outstanding young people who display an incredible amount of commitment both at the arena and in the classroom. The recipients are determined on the basis of academic achievements, hockey involvement and community involvement.
A special thanks to BFL Canada who donates a scholarship to a deserving player for their continued education. The Jim Stirling Scholarship Bursary is awarded to the top OHF Scholarship applicant who receives the top ranking from the OHF Scholarship Committee. This applicant will receive and be honoured with the Jim Stirling Scholarship.
"Narrowing the list of applicants to the final recipients is a difficult task each and every year. However, it brings great pleasure seeing firsthand the quality and skills our future leaders bring forward," said OHF Director and Scholarship Committee Chair Hugh Riddle.
In ensuring the program continues to have vast reach within the OHF jurisdiction we kindly ask the Members and Associations for support in spreading awareness.
Eligibility and application details can are accessible on OHF Scholarship website.
-30-
ABOUT THE OHF: The Ontario Hockey Federation (OHF) is the largest member of Hockey Canada operating alongside Hockey Eastern Ontario (HEO) and Hockey Northwestern Ontario (HNO) as governing bodies for amateur hockey in Ontario. Recognized as the Provincial Sport Organization for the sport of Hockey, the OHF operates within a structure that is comprised of seven member partners: Minor Hockey Alliance of Ontario (ALLIANCE), Greater Toronto Hockey League (GTHL), Northern Ontario Hockey Association (NOHA), Ontario Hockey Association (OHA), Ontario Hockey League (OHL), Ontario Minor Hockey Association (OMHA), and Ontario Women's Hockey Association (OWHA). Each operating under specific programs to their area or jurisdiction, following Hockey Canada and OHF Regulations, Rules and Policies.
For further information please contact:
William Metske
Operations Director
Ontario Hockey Federation