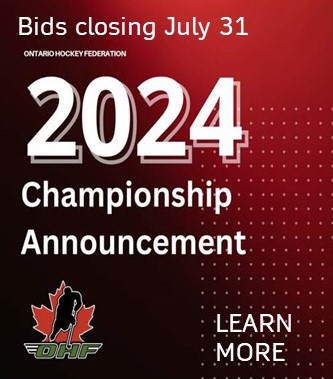 2024 OHF Championships - Bid Process
Date: Mar, 20, 2023 03:00 PM EDT
At the most recent Ontario Hockey Federation (OHF) Semi-Annual Meeting of Members an amendment to OHF Playing Regulation A11(c) pertaining to Regional/All-Ontario and OHF Championships was made.
The new amendment reads;
"OHF Championship hosts will be determined through an open bid to the OHF. All bids must be endorsed by the proposed host association and their affiliated Member. Final approval of hosts will be determined by the Board. Withdrawal of a hosting commitment after approval may result in penalties against the offending Member and/or association."
Rationale for the decision was to provide further opportunity for interested Associations which may have not been available with the prior Member partner yearly rotation.
The application process is now open for Associations interested in hosting at the respective categories below for the 2024 Championships.  Event dates are as follows:
OHF Championships (U13A, AA & U15 A, AA & U18 A, AA): April 19 – 21, 2024
The deadline for submissions is July 31st, 2023. 
The current host rotation will remain in place for all Regional/All-Ontario Championships for 2024.
U18 AAA Central Region Championship: April 8 – 14, 2024 - NOHA (OHF)
U13 AAA All-Ontario Championships: April 17 – 21, 2024 - GTHL (OHF)
U15 AAA All-Ontario Championships: April 17 – 21, 2024 - HEO (out of Branch) (HEO Members would follow up with HEO if interested in hosting.)The current host rotation
Once all bid applications have been received by the deadline, they will be reviewed with final decisions being made in September 2023 by the OHF Directors.
-30-
ABOUT THE OHF: The Ontario Hockey Federation (OHF) is the largest member of Hockey Canada operating alongside Hockey Eastern Ontario (HEO) and Hockey Northwestern Ontario (HNO) as governing bodies for amateur hockey in Ontario. Recognized as the Provincial Sport Organization for the sport of Hockey, the OHF operates within a structure that is comprised of seven member partners: Minor Hockey Alliance of Ontario (ALLIANCE), Greater Toronto Hockey League (GTHL), Northern Ontario Hockey Association (NOHA), Ontario Hockey Association (OHA), Ontario Hockey League (OHL), Ontario Minor Hockey Association (OMHA), and Ontario Women's Hockey Association (OWHA). Each operating under specific programs to their area or jurisdiction, following Hockey Canada and OHF Regulations, Rules and Policies.
For further information please contact:
Scott Stevens
Manager, Program and Events
Ontario Hockey Federation